Welcome to the 2nd post of our book study of Notice & Note by Beers and Probst. I hope you were able to read the first post over at
DillyDabbles
blog. Every Tuesday and Thursday now through July we will tackle sections of this book providing our thoughts and experiences, and we certainly hope you will chime in, too! There is a link-up at the end of each post so you can either read others' posts about the sections, comment with your own thoughts or questions, or link up your own post about the sections. Check out this page for our
schedule
. I absolutely LOVE this book. In fact, I love it so much I am reading it again! I read it last summer, but there are so many goodies contained I have to jump back in. So, without further adieu, let's dive into Part 1, Questions 3 and 4 (pages 20-26)!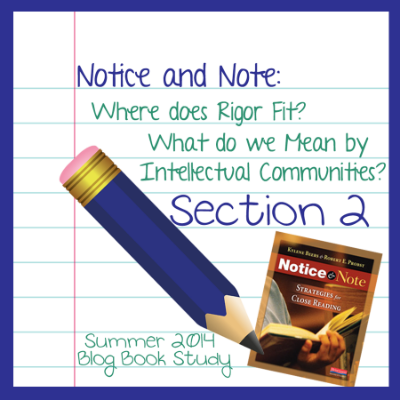 Part 1
Question 3: Where Does Rigor Fit?
I am really glad the authors spent a little bit of time discussing
rigor
because I think this term is used very loosely, and, depending on who is using it, the meaning tends to vary greatly. The authors did a really good job at defining rigor not as how hard a text is or by the difficulty level of the questions we ask, but rather as the type of interaction taking place between the reader and the text. They describe rigor as the energy and attention we put into a text to understand it. Increased rigor does not mean
harder
. I think this is crucial to understanding how to provide rigorous activities in our classrooms. If we give students a hard text, they are going to be spending WAY more time trying to decode the words and understanding what is going on at the surface level. Rigorous reading takes place when students are authentically engaged with the text. What does that mean? Well, it means that students are committed to comprehending a text at a deeper level. You can start out by giving your students easier texts to read until their confidence grows and they have a firm understanding of your expectations. Over time you can increase the complexity of the text (which text complexity will be covered in a future post).
Question 4: What Do We Mean by Intellectual Communities?
Again, I really love that the authors took time to discuss the social aspect of school. Yes, we are all aware that test scores are important, but that isn't the end goal of school. Our end goal should be to facilitate students to become curious risk-takers who are life-long learners and problem solvers. How can we expect our students to become positive contributors to society if they don't know how to engage in conversations with peers? Discourse in your classroom helps students learn how to listen, communicate, and think critically about the ideas of others. How can we expect students to learn these skills if they are simply sitting and listening to the teacher?
These sections were pretty short but very concise. I would love to know your thoughts/questions about rigor and intellectual communities in your classroom. The authors are setting the stage for the role of Close Reading in the classroom and how to implement it. I can't wait to continue reading with you!
**Please excuse any typos as I don't have the super power of being perfect :)